welcome to the wyndham


Garden Ventura Pierpont Inn

Entertaining guests since 1910, The Pierpont Inn is a historic boutique hotel featuring 77 charming guest rooms and spacious suites. Boasting spectacular ocean views, outstanding customer service and a beautifully landscaped Rose Garden and Ocean Bluff, we are Ventura's premier destination hotel for vacations and road trips as well as weddings, meetings and special events.
book direct benefits
Best Rate Guarantee
Free Wi-Fi
Free Parking
Complimentary Morning Paper
Free Local Trolley Tour*
*Based on availability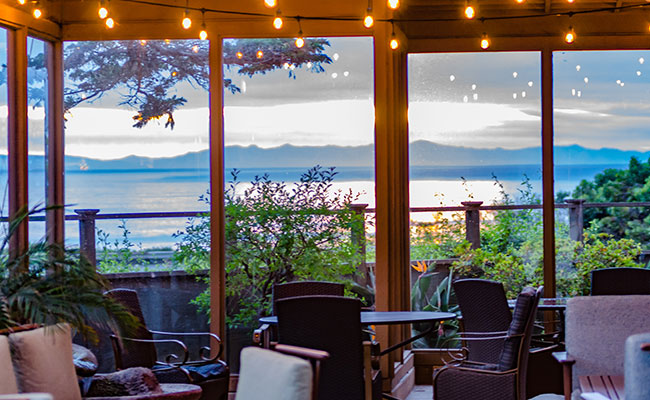 "My husband and I come here every year on our wedding anniversary to enjoy the amazing food, great ambiance, and wonderful service. We love this place!"
Kelly M. | Simi Valley, CA
"So, What can I say about Austen' at The Pierpont Inn in Ventura? Amazing! I have been here four times and have had a deliciously wonderful experience each time!"
Michelle S. | Simi Valley, CA
INDULGE IN CLASSIC AMERICAN FARE AT


AUSTEN'S RESTAURANT

Look no further than Austen's for fresh, innovative cuisine, breathtaking views of the Pacific Coast and friendly customer service. A local dining favorite, Austen's is open for breakfast, lunch and dinner and specializes in classic American fare, using local and sustainable ingredients to showcase the splendid culinary skills of our creative Executive Chef.
"Sons Wedding"

The most beautiful wedding venue. The staff was delightful and the food and beverage wonderful. The room was beautifully decorated and the bed linens were like sleeping on a cloud. It was like a mini vacation even though we live in town. Wonderful breakfast at Austin's the following morning. Loved it.

- 910sherrier

"A wonderful experience"

Can't say enough about this wonderful hotel...from the front desk check-in to check-out. The room was immaculate and it had a wonderful view of the Pacific Ocean. Room included a small refrigerator and microwave and free parking. Will definitely go there again.

- X5450XTpaulac

"Amazing stay"

Recently my husband and I stayed at this beautiful property. The rooms have been remodeled and they are stunning. Dorothy at the front desk is exceptionally professional, bright and friendly. She answered all my questions and was very helpful. I would highly recommend this property and we look forward to our next stay here.

- TripAdvisor Member

"Pleasant Getaway "

We had a wonderful weekend stay while in Ventura for a wedding. The views of the Channel Islands are incredible and staff was super helpful. Take time to enjoy the restaurant. Good food and amazing staff. If we lived in Ventura we would have breakfast there at least once a week!

- Ray M
PLAN AN EVENT


CALIFORNIA SIZED CELEBRATIONS

The Wyndham Garden Ventura Pierpont Inn offers an array of spectacular indoor and outdoor venues spaces to choose from, each more impressive than the next. Romantic gazebos and rose gardens grace the beautifully manicured grounds while stunning ocean views provide the perfect backdrop for celebrating weddings and special events.

learn more
roadtrip


Unforgettable California Adventures