Austen's Restaurant

Open daily for breakfast,
lunch & dinner
Breakfast | 6:30am to 10:30am
Lunch | 11:00am to 2:00pm
Dinner | 5:00pm to 10:00pm
Happy Hour | 4:00pm to 6:00pm

Fresh Fare &


Innovative Cuisine

Showcasing the splendid culinary skills of our Executive Chef, Austen's serves fresh, innovative fare using locally sourced, sustainable, and seasonal ingredients. After a day of strolling the beach, antiquing on Main Street, or a successful meeting, kick back in our Ocean View Lounge and take in an incredible sunset overlooking the California Coast.
So, What can I say about Austen' at The Pierpont Inn in Ventura? Amazing! I have been here four times and have had a deliciously wonderful experience each time!"
Michelle S. | Simi Valley, CA
My husband and I come here every year on our wedding anniversary to enjoy the amazing food, great ambiance, and wonderful service. We love this place!"
Kelly M. | Simi Valley, CA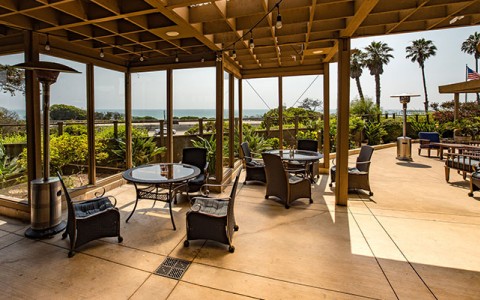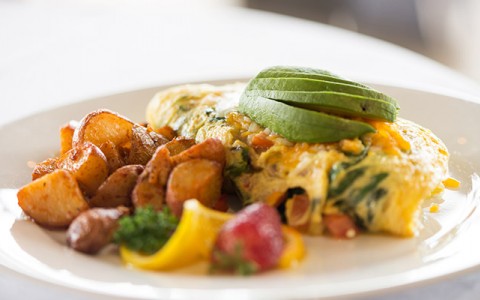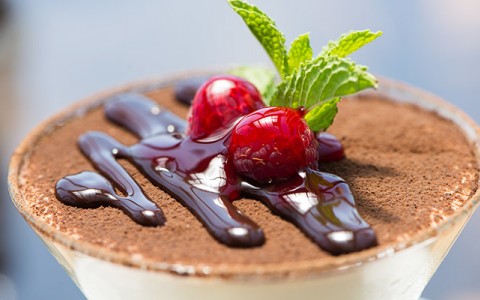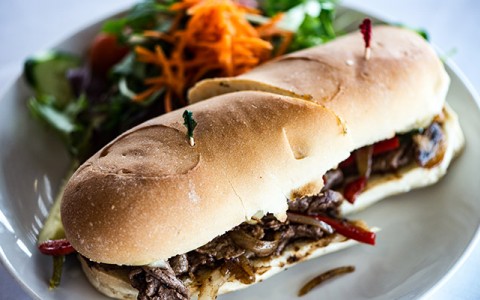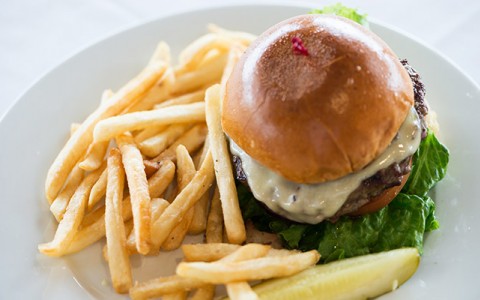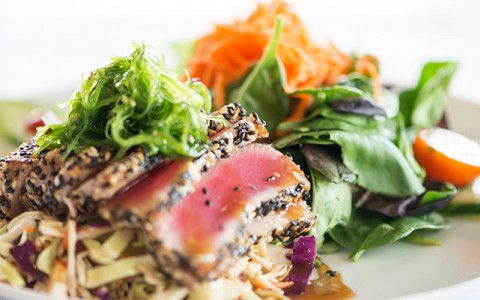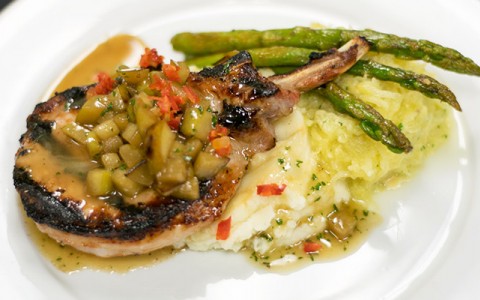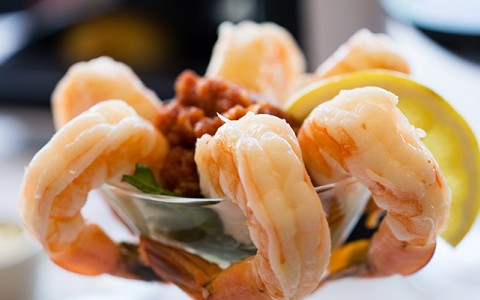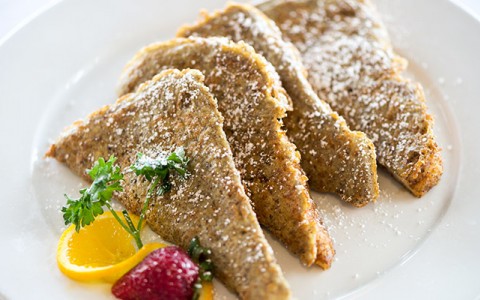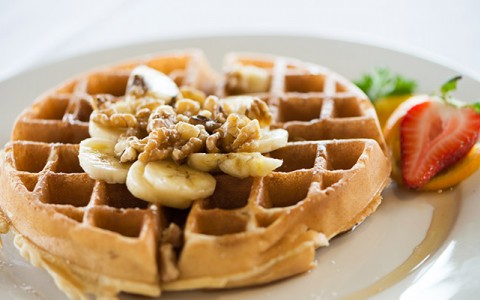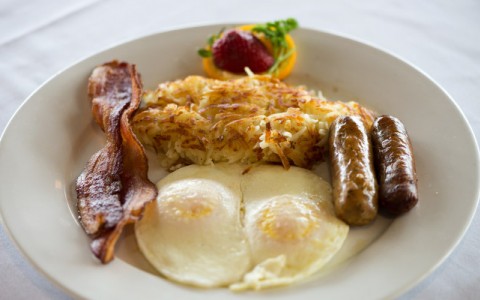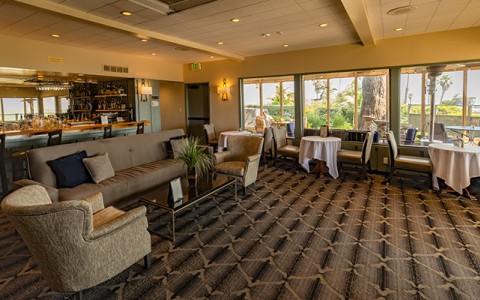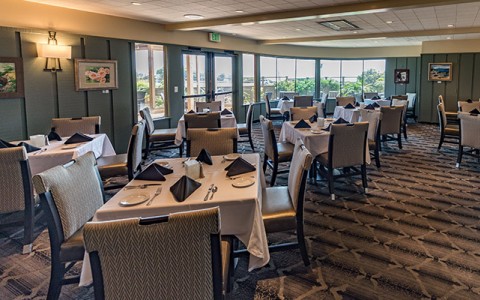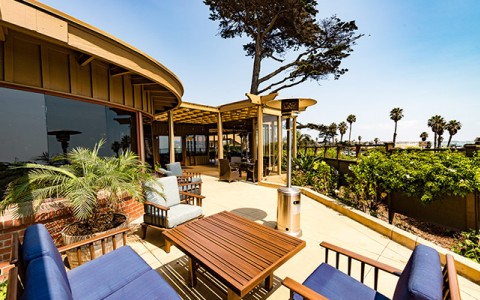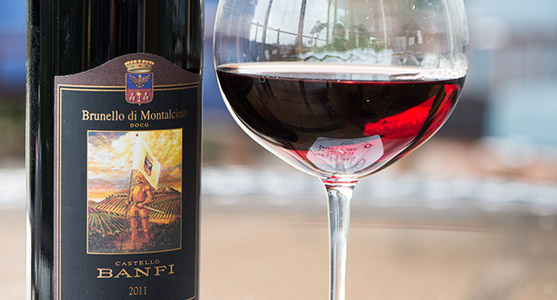 Raise a glass!
Toast to another wonderful day in Ventura with a draft beer, handcrafted cocktail or a glass of Pinot Noir from one of our Santa Barbara vineyards. Austen's has an incredible wine selection, with over 140 unique bottles to choose from.
Reserve with yelp
Beer Battered Shrimp Tacos
12
Chipotle Salsa, House Coleslaw (3)
Beer Battered Fish Tacos
10
Chipotle Salsa, House Coleslaw (3)
Salmon Tacos
12
Blackened Salmon, Roasted Tomatillo Salsa, House Coleslaw, Corn Tortillas (3)
Sesame Ahi Tuna
14
Black Sesame Encrusted Ahi Tuna, Asian Slaw
Garden Burger (V)
10
Black Bean Patty, Spinach, Roasted Peppers, Avocado, Chipotle Aioli, Toasted Brioche Bun
Classic Philly Cheesesteak
12
Top‎ Sirloin, Grilled Onions, Bell Peppers, Mushrooms, Swiss Cheese
Club Sandwich
12
Turkey, Bacon, Tomato, Lettuce, Mayonnaise
Grilled Chicken Melt
10
Grilled Chicken, Mushrooms, Avocado, Provolone Cheese, Red Pepper Aioli, on Ciabatta
Philly Cheese Portobello Mushroom (V)
10
Portobello Mushroom, Bell Pepper, Onion, Provolone Cheese, Thyme, Soy Sauce
Angus Beef 1/2 lb. Burger
12
Cheddar or swiss, toasted brioche bun, French fries add bacon or avocado

Toppings
cheddar swiss
Extra
bacon +1.5 avocado +1.5 mushrooms +0.75
Crab Cakes
18
Jumbo‎ Lump Crab Cakes, Mixed Greens Tossed in Balsamic Vinaigrette, Served with Lemon Aioli
Swordfish Salad
14
Grilled Swordfish, Mango Relish, Over Baby Arugula and Tomato Salad Tossed in Sweet Tamarind Dressing
Portobello Caprese Salad
12
Roasted Portobello Mushrooms Stuffed with Mini Heirloom Tomatoes, Fresh Mozzarella, Basil, Drizzled with Balsamic, Served Over a Bed of Mixed Greens Tossed in Balsamic Vinaigrette
Chipotle Salad
12
Baby Arugula, Black Beans, Tomato, Avocado, Corn, Chipotle, Tossed in Chipotle Lime Dressing

Meat
chicken +4 salmon +6
Classic Cobb Salad
12
Grilled Chicken Breast, Bacon, Tomato, Egg, Avocado, Blue Cheese Crumbles, Choice of Dressing
Baby Greens Salad
12
Mini Heirloom Tomatoes, Granny Smith Apples, Goat Cheese, Tossed in Balsamic Vinaigrette

Meat
chicken +4 salmon +6
Chickpea Spinach Salad
12
Chickpeas, Raisins, Feta Cheese, Spinach, Tossed in Honey Lemon Vinaigrette

Meat
chicken +4 salmon +6
House Salad
8
Romaine Lettuce, Avocado, Cucumber, Mini Heirloom Tomatoes, Red Onion, Tossed in Balsamic Vinaigrette

Meat
chicken +4 salmon +6
Thai Veggie Spring Rolls
6
Tuna Poke
7
Avocado, Papaya-Mango Relish, Won Ton Chips
Vegetable Minestrone
cup 5 bowl 7
Soup of the Day
cup 5 bowl 7
Classic Onion Rings
4
Served with Ranch
Crispy Calamari
7
Spicy Marinara
Mushroom Ravioli
16
Creamy Mushroom Sauce, and a Touch of Truffle Oil
Austen's Bolognese
15
Homemade Fettuccini, Fresh Grated Parmesan Cheese
Mexican Omelet
13
Black beans, cilantro, corn, serrano peppers, tomatoes. green onion, monterey jack cheese, and sour cream

Side
O'Brien potatoes Hash browns
Ortega Omelet
13
Ortega‎ peppers,onions, bacon, cheddar cheese, topped with guacamole and sour cream

Side
O'Brien potatoes Hash browns
Veggie Omelet
13
Bell peppers, mushrooms, spinach, avocado, onion, tomato, and monterey jack cheese

Side
O'Brien potatoes Hash browns
Denver Omelet
13
Ham, onions, bell peppers, monterey jack cheese, and cheddar cheese

Side
O'Brien potatoes Hash browns
Ventura Omelet
13
Spinach,‎ mushrooms, avocado, and goat cheese

Side
O'Brien potatoes Hash browns
Greek Omelet
13
Spinach, mushrooms, tomatoes, and feta cheese

Side
O'Brien potatoes Hash browns
Old Fashioned Oatmeal
8
Fresh cream, cinnamon syrup, golden raisins, dried cranberries
French Toast Combo
12.5
2 eggs any style

Crispy bacon, sausage links, or sausage patty
French Toast with Coconut Syrup
11
Pancake Combo
12.5
2 eggs any style

Crispy bacon, sausage links, or sausage patty
Nutella Stuffed Pancakes
11
Waffle Combo
12.5
2 eggs any style

Crispy bacon, sausage links, or sausage patty
Banana Nut Waffle
11
Freshly sliced bananas, walnuts, and powdered sugar
Croissant Sandwich
11
Egg, bacon, tomato, avocado, cheddar cheese

Side
O'Brien potatoes hash browns
Huevos Rancheros
12
Corn tortillas, refried beans, 2 eggs, ranchero sauce, choice of breakfast potatoes or hash browns

Side
O'Brien potatoes hash browns
California Benedict
12
Sautéed spinach, avocado, two poached egg, hollandaise, choice of breakfast potatoes or hash browns

Side
O'Brien potatoes hash browns
Traditional Eggs Benedict
12
Toasted english muffin, Canadian bacon, two poached eggs, hollandaise, choice of breakfast potatoes or hash browns

Side
O'Brien potatoes hash browns
Chilled Fruit Juices
3
Flavors
orange apple cranberry tomato grapefruit
Freshly Brewed Coffee
2.5
Style
Regular Decaffeinated
Selection of Hot Teas
2.5
Applewood Bacon or Sausage
3
Breakfast Potatoes and Hash Browns
3
Pistachio Crusted Lamb Loin
32
Goat Cheese Mash, Dijon Mustard, Mint, Celery Root Puree, Grilled Asparagus, Red Wine Jus
8 oz. Filet Mignon
36
Hericot Verts, Mushrooms, Chives, Parmesan and Garlic Mashed Potatoes
12 oz. NY Strip Steak
34
Coffee Rub, Sautéed Arugula, Spinach, Fennel, Cipollini Onions, Herb Demi
Fresh Strozzapreti Pasta with Basil Pesto
24
Grilled Chicken, Vegetable Mix, Parmesan
Pork Chop
28
Corn‎ Puree, Sautéed Onion and Spinach, Caramelized Apples, Marsala Sauce
Halibut
32
Saffron Risotto, Sun-dried Tomatoes, Fennel, Parsley, Pine Nuts, Romesco Sauce
Pan Seared Scallops
32
Pea Puree, Sautéed Baby Squash, Pea Shoot Tendrils, Peas, Herb Oil
Salmon
30
Lemon‎ Garlic Orzo Pasta, Roasted Vegetables and Chili Gremolata
Roasted Half Chicken
28
Cremini Mushroom Ragu, Cherry Tomatoes, Kale and Creamy Polenta
Classic Shrimp Cocktail
12
Fresh Vodka-Horseradish Sauce
Crostini Trio
10
Ricotta, Cucumber, Mint, Dill; Goat Cheese and Sun-dried Tomato; Marinated Artichokes and Parmesan
Fried Artichokes Hearts
10
Gorgonzola dipping sauce
Kung Pao Calamari
12
Peanuts, Red Bell Pepper, Chile de Arbol, Scallions and Sweet Spicy Sauce
Austen's Veggie Minestrone
size
cup 5 bowl 7
Soup of the Day
size
cup 5 bowl 7
Local Greens and Kale Salad
12
Red Quinoa, Goji Berries, Mini Heirloom Tomatoes with Pistachio Vinaigrette
Wedge Salad
10
Baby iceberg lettuce, bacon, red onion, tomato, bleu cheese dressing
Grilled Peach Salad
10
Peaches, Baby Arugula, Farro, Blueberries, Red Onion, Blue Cheese, Pistachios with Maple Bourbon Rosemary Dressing
Watermelon Strawberry Tomatillo Salad
10
Mint, Balsamic Glaze, Olive Oil
Pear Carpaccio
10
Pears, Baby Arugula, Pecorino Cheese, Toasted Walnuts, Drizzled with Lemon Oil
Henri Bourgeois, Sancerre, La Bourgoise, France, 2012
size
glass N/A bottle 75
Foxen, Chenin Blanc, Santa Barbara, CA, 2013
size
glass N/A bottle 36
Fritz Haag, Riesling, Kabinett trocken, Mosel, Germany
size
glass N/A bottle 59
Chateau Léoube, Rose De Léoube, France, 2015
size
glass N/A bottle 36
Schlumberger, Riesling, Alsace, France, 2013
size
glass N/A bottle 54
Thacher, Viognier, Adelaidia District, Paso Robles, CA
size
glass 12 bottle 44
Hugel, Gewurztraminer, Alsace, France, 2013
size
glass N/A bottle 49
Conundrum, Blend, Rutherford, CA, 2012 Semi-sec
size
glass 11 bottle 36
Elena Walch, Gewurztraminer, Italy, 2015
size
glass N/A bottle 45
Margerum, Riesling, Santa Barbara County, CA, 2015
size
glass 10 bottle 36
Henri Bourgeois, Sancerre Rose, Les Jeunes Vignes, France, 2014
size
glass N/A bottle 44
Castello Banfi San Angelo, Pinot Grigio, Italy, 2013
size
glass 10 bottle 36
Castello Della Sala San Giovanni Della Sala, AOC Orvieto, Italy, 2013
size
glass N/A bottle 44
Henri Bourgeois, Rose De Pinot Nior, Loire Valley, France, 2015
size
glass 9 bottle 32
Lucky Dogg, Winery, Rose of Pinot Noir, Verna's Vineyard, Santa Barbara, CA, 2014
size
glass N/A bottle 40
Cinque Stelle, Pinot Grigio, Santa Ynez Valley, CA, 2013
size
glass 9 bottle 32
Torbreck, Woodcutter's Semillon, Australia, 2014
size
glass N/A bottle 36
Villa Wolf, Gewurztraminer, Wachenheim, Palatinate, Germany
size
glass 8 bottle 32
Chateau de Beyrre, Chenin Blanc, 2004
size
glass N/A bottle 36
Herzog, Rose of Cabernet Sauvignon, CA, 2015
size
glass 7 bottle 24
Selvapiana, Chianti Rufina, Italy, 2011
size
glass N/A bottle 75
Garofoli, Grosso Agontano, Italy, 2011
size
glass N/A bottle 72
Paix Sur Terre, Mourvedre, Paso Robles, CA, 2015
size
glass N/A bottle 72
Bramare, Malbec, Valle de Uco, Mendoza, Argentina, 2013
size
glass N/A bottle 72
Paix Sur Terre, Red Blend, Paso Robles, CA, 2015
size
glass N/A bottle 65
Achaval Feffer, Quimera, Red Blend, Argentina, 2012
size
glass N/A bottle 60
Day, Zinfandel, Sonoma County, CA, 2015
size
glass N/A bottle 60
Straight Line, Tempranillo, Santa Rosa, CA, 2012
size
glass N/A bottle 58
Pulenta Estate, Malbec, Argentina, 2011
size
glass N/A bottle 55
Earthquake, Petit Syrah, Lodi, CA, 2013
size
glass N/A bottle 50
Thacher, Zinfandel, Paso Robles, CA, 2013
size
glass N/A bottle 49
Andrea Oberto, Langhe Nebbiolo, Italy, 2014
size
glass N/A bottle 48
Laurus La Fiorita, Red Blend, Italy, 2011
size
glass N/A bottle 45
Scott Cellars, Sangiovese, Santa Barbara, CA, 2012
size
glass N/a bottle 44
Sean Minor, Zinfandel, H. Mynors, CA, 2013
size
glass N/A bottle 42
Touraine Amboise, Domaine de la Gabilliere, France, 2011
size
glass N/A bottle 36
Vietti, Barolo Castiglione, Italy, 2011
size
glass N/A bottle 99
Vietti, Barbera d'Asti Tre Vigne, Italy, 2013
size
glass N/A bottle 44
Felino, Malbec, Mendoza, Argentina, 2015
size
glass 12 bottle 44
Turley, Zinfandel, Juvenile, Napa Valley, CA, 2015
size
glass 10 bottle 36
Chappellet, Signature Cabernet, Napa Valley, CA, 2013
size
glass N/A bottle 150
Etude, Cabernet Sauvignon, Napa Valley, CA, 2012
size
glass N/A bottle 150
Rodney Strong, Rockaway, Cabernet Sauvignon, Alexander Valley, CA, 2013
size
glass N/A bottle 150
Trinchero, Cabernet Sauvignon, Napa Valley, CA, 2012
size
glass N/A bottle 125
Stags Leap Cellars, Artemis, Napa Valley, CA 2013
size
glass N/A bottle 120
Foxen, 7200 Cabernet, Vogelzang Vineyard, Happy Canyon, Santa Barbara, CA, 2012
size
glass N/A bottle 110
Antica, Cabernet Sauvignon, Napa Valley, CA, 2012
size
glass N/A bottle 110
Chateau Chantelune, Margaux, France, 2012
size
glass N/A bottle 80
Easton, Cabernet Sauvignon, Shenandoah Valley, CA, 2008
size
glass N/A bottle 68
Marrano Veneto, Cabernet Sauvignon, Italy, 2007
size
glass N/A bottle 59
Hess Allomi, Cabernet Sauvignon, Napa Valley, CA, 2013
size
glass N/A bottle 49
Chateau St. Jean, Cabernet Sauvignon, Alexander Valley, CA, 2012
size
glass N/A bottle 44
Mauritson,Cabernet Sauvignon, Sonoma Valley, CA, 2012
size
glass 14 bottle 50
Tolosa, Cabernet Sauvignon, Paso Robles, CA, 2013
size
glass 10 bottle 36
Tom Gore, Cabernet Sauvignon, Geyserville, CA, 2014
size
glass 8 bottle 28
Opus One, Napa Valley, CA, 2012
size
glass N/A bottle 349
Beringer, Private Reserve, Napa Valley, CA, 2012
size
glass N/A bottle 299
Jonata, Syrah, La Sangre de Jonata, Santa Ynez, CA, 2011
size
glass N/A bottle 199
Daou Estate, Soul of a Lion, Paso Robles, CA, 2013
size
glass N/A bottle 199
Daou Estate, Mayote, Paso Robles, CA, 2013
size
glass N/A bottle 199
Castello Banfi, Brunello di Montalcino, DOCG, Italy, 2010
size
glass N/A bottle 140
Justin, Isosceles, Cabernet 77%, Merlot 12 %, Cabernet Franc 11%, Paso Robles, CA, 2012
size
glass N/A bottle 140
Foxen, Pinot Noir, Bien Nacido, Block 8, CA, 2012
size
glass N/A bottle 120
Overland Winery, Argonaut, Napa Valley, CA, 2013
size
glass N/A bottle 79
Penfolds, Shiraz/Cabernet, Bin 389 "Baby Grange", Australia
size
glass N/A bottle 79
Penfolds, Bin 407, South Australia
size
glass N/A bottle 79
Foxen 7200 Volpino, Sangiovese, Santa Inés Valley, CA, 2012
size
glass N/A bottle 59
syrah and rhone varietals
Margerum, Syrah, Black Oak Vineyard, Santa Barbara County, CA, 2013
size
glass N/A bottle 78
Mi Sueno, Syrah, Napa Valley, CA 2012
size
glass N/A bottle 72
Mi Sueno, Red Blend, El Llano, Napa Valley, CA, 2012
size
glass N/A bottle 72
Babcock, Syrah, Upper Crust, Single Vineyard, CA, 2012
size
glass N/A bottle 55
Thacher, Vin Rouge, Paso Robles, CA, 2013
size
glass N/A bottle 50
Xavier, Rasteau, GSM, France, 2012
size
glass N/A bottle 48
Torbreck, Cuvee Juveniles, Rhone Varietal, South Australia, 2012
size
glass N/A bottle 44
Clos de Trias, Cotes du Ventoux Rouge, Rhone Varietal, France, 2010
size
glass N/A bottle 32
Tolosa, Syrah, Edna Valley, CA, 2012
size
glass 11 bottle 40
Bieler Pere & Fils, Red Blend, Cotes du Rhone, France, 2015
size
glass 10 bottle 36
Adami Bosco di Gica, Procecco, Italy
size
glass N/A bottle 44
Billecart-Salmon, Brut Rose, Champagne, France
size
glass N/A bottle 140
Domaine Antoine Dupuy, Sparkling Wine, AOC Tourraine, France
size
glass N/A bottle 32
Taittinger, Brut La Francaise, Champagne, France
size
glass N/A bottle 75
Enza, Prosecco, Veneto, Italy
size
glass 5 bottle 20
Veuve-Cliquot Brut, Champagne, France
size
glass N/A bottle 65
Le Grand Cortage Blanc de Blanc, France
size
split 9 bottle 32
G.H. Mumm, Champagne, Reims, France
size
glass N/A bottle 60
Le Grand Cortage Brut Rose, France
size
split 9 bottle N/A
Joseph Phelps, Napa Valley, CA, 2011
size
glass N/A bottle 59
Paul Hobbs, Chardonnay, Russian River Valley, CA, 2014
size
glass N/A bottle 120
Jean Marc Brocard, Chablis Sainte Claire, France, 2013
size
glass N/A bottle 48
Foxen, Tinaquac Vineyard, Santa Maria Valley, CA, 2012
size
glass N/A bottle 75
Mi Sueno, Chardonnay, Los Carneros, Napa Valley, CA, 2013
size
glass N/A bottle 45
Stags Leap, Chardonnay, Napa Valley, CA, 2014
size
glass N/A bottle 60
Complicated, Chardonnay, Sonoma Coast, CA, 2015
size
glass 10 bottle 36
Failla, Chardonnay,Sonoma Coast, CA, 2014
size
glass N/A bottle 60
Sean Minor, Four Bears Chardonnay, Central Coast, CA, 2014
size
glass 8 bottle 30
Sandeman's, Vintage Porto 2011
size
glass 19 bottle N/A
Thacher, Late Harvest Zinfandel, Paso Robles, CA, 2010, 500ml
size
glass N/A bottle 45
Dow Vintage, Port 2008
size
glass 12 bottle N/A
Castelenau de Suduiraut, Sauternes, France, 2009, 750 ml
size
glass 7 bottle 70
Overland Winery, Late Harvest Sauvignon Blanc, CA 2013, 375 ml
size
glass N/A bottle 49
De Bortoli, Noble One, Semillon, Australia, 2007, 375 ml
size
glass 8 bottle 32
Etude, Pinot Noir, Santa Rita Hills, CA, 2013
size
glass N/A bottle 78
Clendenen Family, Pinot Nior, Santa Maria Valley, CA, 2014
size
glass N/A bottle 52
Paul Hobbs, Cross Barn, Sonoma Coast, CA, 2013
size
glass N/A bottle 49
J.Christopher, Pinot Noir, Willamette Valley, Oregon, 2012
size
glass N/A bottle 48
Mi Sueno, Pinot Noir, Los Carneros, Napa Valley, CA, 2013
size
glass N/A bottle 45
Kessler-Haak, Pinot Noir, Ohana, Santa Rita Hills, CA, 2013
size
glass 12 bottle 44
Ferrari-Carano, Fumé Blanc, Sonoma County, CA, 2013
size
glass N/A bottle 36
The Paring, Sauvignon Blanc, CA, 2013
size
glass N/A bottle 45
Scarbolo, Friuli-Venezia, Italia, 2011
size
glass 11 bottle 40
Paix Sur Terre, Ugni Blanc, Paso Robles, CA, 2016
size
glass N/A bottle 40
Foussier Peres & Fils, Pouilly Fume, Loire, France, 2012
size
glass 10 bottle 36
Chateau La Cabanne, Pomerol, France, 2012
size
glass N/A bottle 90
Northstar, Merlot, Columbia Valley, WA, 2009
size
glass N/A bottle 75
Gainey, Merlot, Santa Ynez Valley, CA, 2012
size
glass 11 bottle 40
Flourless Chocolate Cake
9
mixed berry stuffing, gluten free
Vanilla Bean Cheesecake
9
gluten free
Dulce De Leche Cheesecake
9
salted caramel topping
Classic Italian Tiramisu
8
Mango Panna Cotta
8
topped with fresh berries
Molten Chocolate Lava Cake
8
topped with fresh berries
Classic Carrot Cake
8
cream cheese frosted
Creole Bread Pudding
8
croissant and french bread soaked in bourbon and butter custard, fresh berries, vanilla-whiskey crème anglaise
A1 Blue Cheese Burger
15
House Made Pattie, A1 Sauce, Blue Cheese Crumbles, Applewood Smoked Bacon, Onion Ring and Fries
August Burger
13
Lettuce, Tomato, Onion, Choice Cheese and Fries
Tuna Poke
10
Cucumber, Avocado, Scallions and House Sauce
Chicken Wings
10
Carrots, Celery Sticks and Ranch
Blackened Shrimp
8
Served with Cucumber Slices and Avocado
Pig Wings
8
Carrots, Celery Sticks and Ranch
Soft Pretzel Sticks
8
Brown Mustard and Beer Cheese Dip
Kung Pao Calamari
12
Peanuts, Red Pepper, Chile de Arbol, Scallions and Sweet Spicy Sauce
Fried Artichoke Hearts
10
Served with Ghost Pepper Aioli
Bottled Beer
5
805 * Bud Light * Budweiser * Stella Artois Widmer Brothers Hefeweizen * Heineken * Newcastle Dos XX Lager * Strongbow Cider Hoppy Poppy IPA * St Pauli Girl NA
Cucumber Elderflower
8
Boodles, St. Germaine, Lemon Juice, Cucumber
Strawberry Fields
8
Grey Goose La Poire, Peachtree, Cucumber, Strawberries, Soda Water
Mules
8
Moscow, Irish, Mexican, Kentucky, London
Margaritas
7
Classic, Jalapeno, Blood Orange
House Sangria
7
Lemon Drop, Cosmopolitan, Apple-tini, Manhattan, French
Red or White Wine of the Day
6